By Chuskit
Introduction:
Leh Ladakh is a land so unique, beautiful that it fascinates traveller from far off nation. Its Serene landscapes and innumerable lakes have been part of many movies. The area of Ladakh has a gift of nature. The Ladakhi people are most generous and cheerful you will meet. Ladakh has a unique culture that people ardently follow throughout the land. The climate in the Ladakh region is cold and usually dry in winters.
Ladakh also know as the "Land of High Passes "is a region located in the northernmost part of India, a union Territory, which was previously a park of Jammu & Kashmir. Ladakh is famous for its rugged terrain, stunning natural landscape, and unique cultural heritage. The region Is surrounded by some of the world highest mountain ranges, including the Himalaya. Karakoram and the Ladakh range. It's a land of coldest desert in the World. It's a land to be lost in the beauty of rugged terrains and click awesome pictures, seeking solace in numerous Gompas and Satisfy your adventures soul by indulging in various adventure activities like trekking, rafting, paragliding, mountain climbing, Biking etc .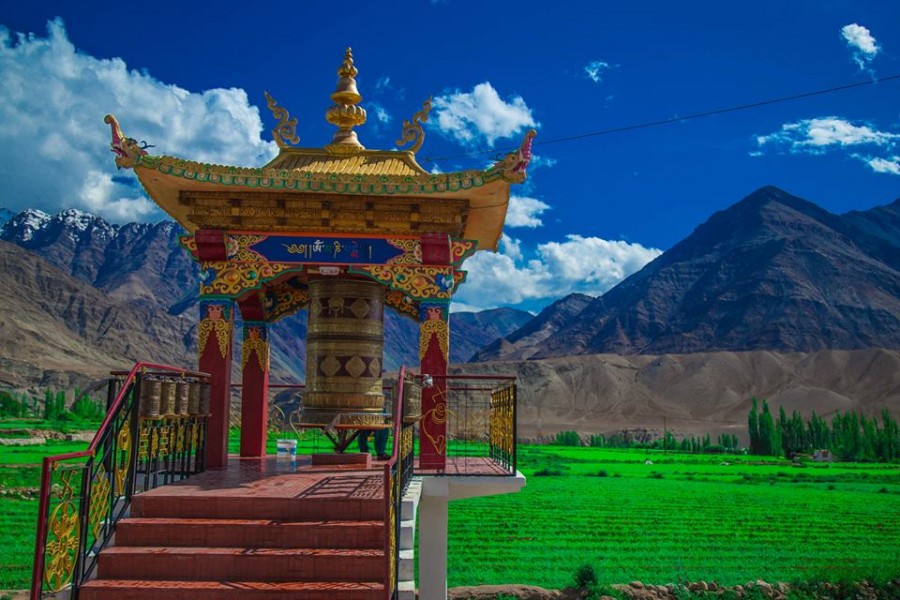 You will also encounter various remotest villages and get fascinated by their rustic life as Ladakh is also home to a diverse population that include Tibetans, Muslims and Buddhists. The region's strategic location at the crossroads of central Asia, India and Tibet has shaped its Unique culture, architecture and cuisine. The traditional Ladakhi way of life is centred around farming, trading and livestock rearing, and the locals have developed a closed relationship with their environment.
The place has a rich cultural heritage and an awesome palace – Leh Place . The list is endless and this is just the tip of an iceberg. Ladakh Tourism Map is filled with numerous beautiful places to overpower your soul with delight. Ladakh will never be monotonous as it has so much to offer to a tourist, And that's why , Ladakh is unquestionably one of the best places to visit in India for Vacations .
The difference between Imagination & real experience gets clear when you land on the surreal beauty of Ladakh – bound with unmatched with natural beauty & adventure delights. prove every theory wrong to give you new definition of beautiful Ladakh. An untouched paradise gives a surprise at every bend of valley with awe-struck view & calling in the world of silence. Winter is harsh with sheet of ice, while summer are season to include the place in your travel bucket list.
How to reach Ladakh?
Ladakh is frequented by all kinds of riders, honeymooners, adventures tourist, photography, and the nature's seekers. The destination offers easy roads connectivity. However, anyone visiting the place should be prepared for intense off road. If you have been looking for some adventure in your life. head on to Ladakh! Ladakh is reached by two prominently laid out routes.
The first is the Srinagar to Leh Highway that takes you through Kargil and the Kashmir valley. The journey would be about 434 km but this route will be open between June and mid-November. The highest point you will touch at this root would be the Zojila pass at altitude of 11,500 ft.
The second roots starts from Manali and it would be again about 473 kilometre of drive .The route open from mid June and is allow till October .This will be the road where you would be crossing serval high passes including Tanglang La , arguably ,the second highest motorable road in the world .
Ladakh by Road: The Jammu and Kashmir and Himachal Pradesh Transport corporation runs buses to Ladakh, and your choice will depend on the route you take, Both journey will last a couple of days with several stops that would gradually open up the vast Himalayan landscape, Although cheap,public transport can be bit incontinent . it would be recommended that you take the service of registered travel company t
By Flight: The Kushok Bakula Rimpoche Airport at Leh serves for a visit to Ladakh , You will get connecting flights fromSrinagar ,Delhi ,Mumbai and Jammu . The most common service providers in this route include Spicejet ,Air- India , Vistara .However remember that the availability of flights is subject to weather conditions and the weather inLADAKH .needless to say is quite unpredictable here. In winter flying is the only way to reach Ladakh once road are closed for the winter.
Accommodation in Ladakh.
It is a period when location an accommodation facility upon arrivals is easy in Ladakh. It is because most tourist enterprises are open and running. Tourists are in large during this month, In the last few years, Tourists are coming in high number, and that does not match the capacity of these accommodation facilities, it is therefore, a piece of advice that you book accommodation way before arriving to avoid inconveniences.
Adventure In Ladakh :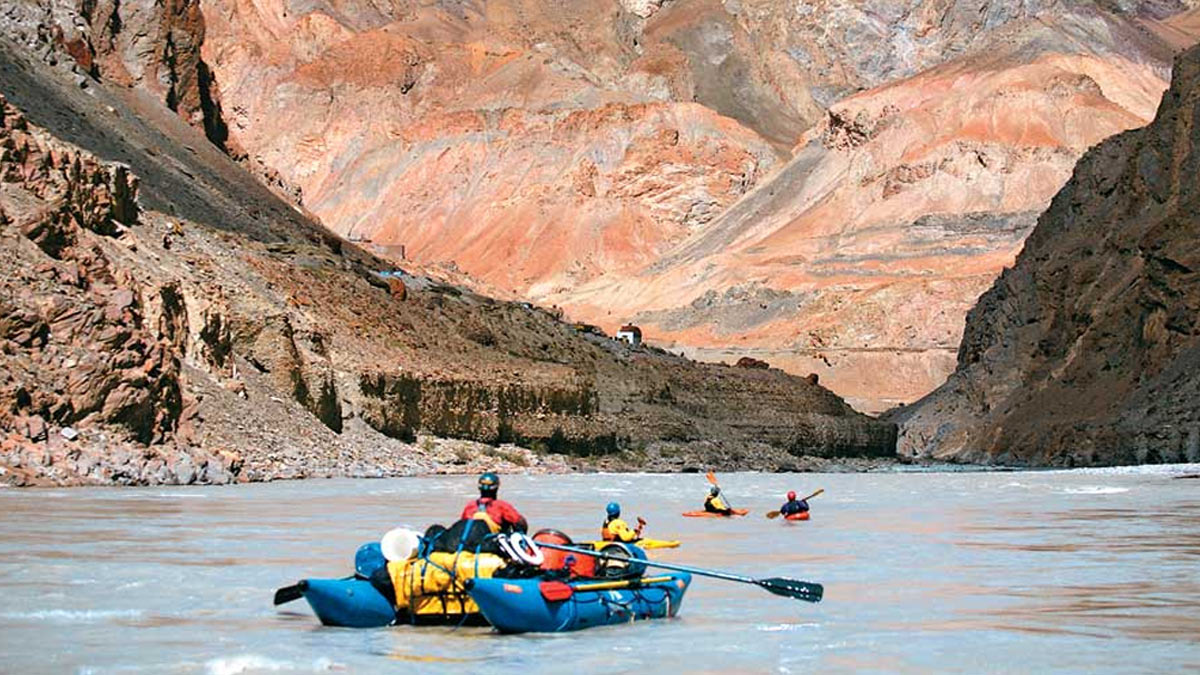 You can participate in a various of adventure activities like bike -riding, trekking, rafting or camping etc. Many other activities that you can plan as a person or in a group of friend are available .Ladakh remains partially open in winters , but the best time to visit Ladakh and to immerse yourself entirely in its enchanting beauty is from May till October end . These season received little rainfall , but it is mostly sunny .If you have plans to visit Ladakh , these season is the best month for your trip , and you will be able to enjoy your journey wholly .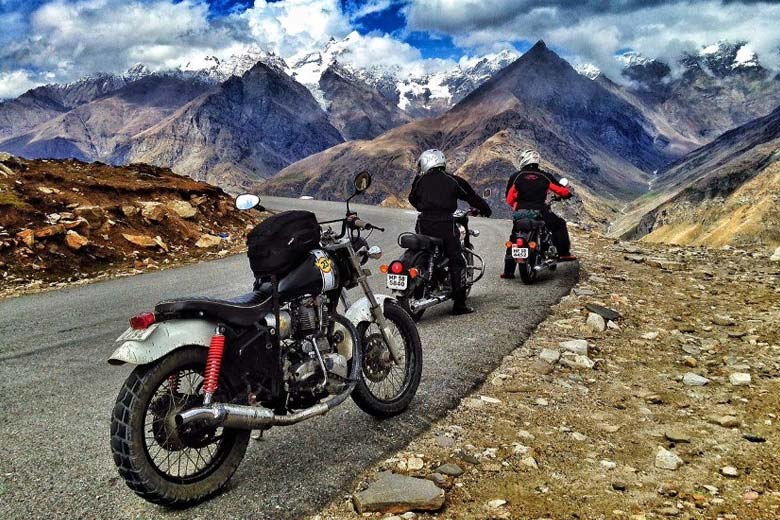 Ladakh offers something for every kind of visitor. If you love the mountains , you need to visit Ldakh once , If you have a love for wildlife , you have the options of visiting the Hemis National Park . If you have a passion for culture and food . Ladakh has a unique taste in that . You will love the place , and it will be an experience that will stay in your heart forever .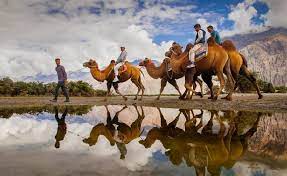 Best Places to Visit in Ladakh for Lifetime Experience:
Ladakh is a perfect amalgamation of adventure and leisure vacations, It is a land of high passes that boasts about alpine lakes, ancient monasteries, breathtaking Landscape, and glistening streams, ancient monasteries, breathtaking landscape, and glistening streams. There is a plethora of best places to visit in Ladakh, which are an absolute delight for nature lovers, thrill-seekers and shutterbugs, From bike trips and trekking to camping and mountaineering, Ladakh has so much to offer to tourist.
The Buddhist monasteries nestled in the lap of the mighty Himalayans for thousands of years and an important cultural centre where religious festivals Organize and offer
Glimpses of the rich past of the region .There are a number of adrenaline -rushing activities offered here , Which make the Ladakh trip memory .
Here is the best tourist palace in Ladakh, where you should definitely visit to have a vacation of Life time:
Pangong Tso Lake – Colour Changing Lake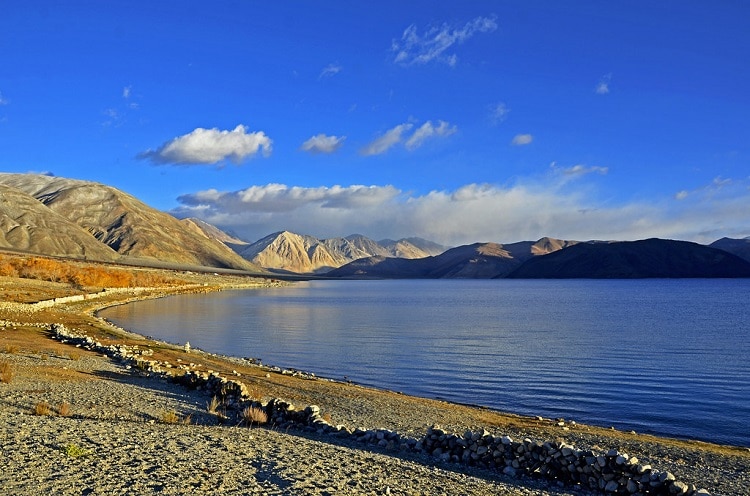 Situated at the height of 4350 m in the Himalayas, Pangong Lake is the world's highest salt water lake.
Situated at an height of 4,350 m above sea level, Pangong Lake is the world highest salt water Lake .Pangong Tso Lake is situated on India – China border. This pristine and endorheic lake is 134 km long, which extends from India to China. The prime attraction of the lake is its changing colour over the duration of the day and which is unique experience.
It is home to some of the exotic migratory species of birds, which you can spot on the bank of the Pangong Tso. Owing to the harsh winter, the lake freezes down during this time. Camping on the bank of the lake is a sheer delight for adventure enthusiasts.
• Things to do at Pangong Lake: Camping, birding and Natural Walk
• Best time to visit Pangong Lake: May to September
• How to reach Pangong Lake: Leh Airport is the nearest airport , which is 225 km away . The lake is well – connected from Leh via Chang La Pass .
Shanti Stupa: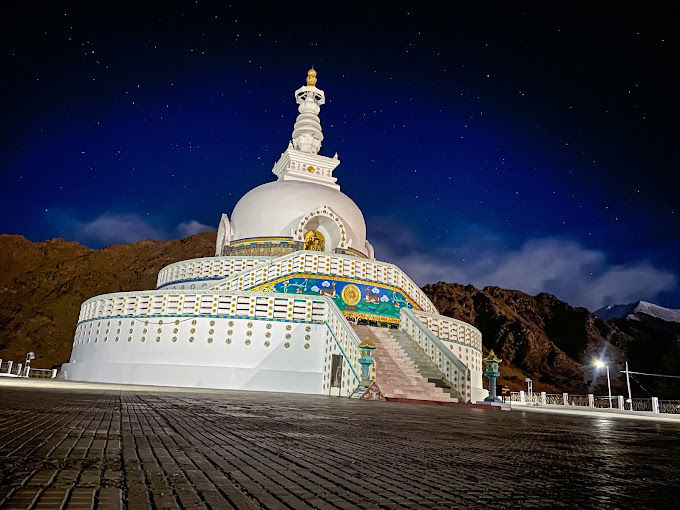 Built to promote world peace and prosperity as well as to commemorate 2500 years of Buddhism, Shanti Stupa is the major attraction in Leh. Perched on the mountain top, this religious place also offers a panoramic view of city and the surrounding, and thus is a must -see.
This attraction in Leh was build at a part of the peace Pagoda Mission by Japanese Buddhist Bhikshu. Underneath the Stupa is the relic of the Buddha. Sunrise and sunset are considered to be the best time of the day to visit the Shanti Stupa when views from this place to visit in Leh are Spectacular.
History of Shanti Stupa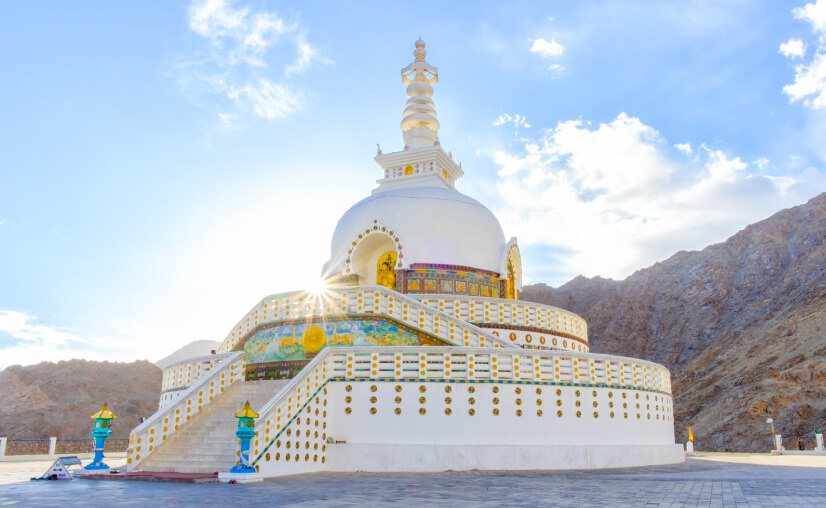 The history of Shanti Stupa states that was build in 1991 by Japanese BUDDHIST Bhikshu, Gyomyo Nakamura as a part of the peace Pagoda mission. It holds the relics of the Buddha at its base that were enshrined by the 14th Dalai Lama.
Hall Of Fame Museum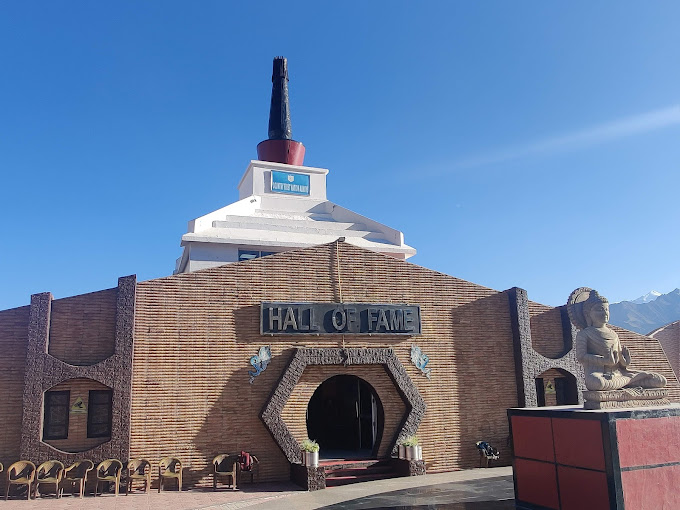 Constructed by the India Army to commemorate the brave Indian martyr soldiers, the Hall of Fame Museum is located in Leh, it stands as a reminder of the great Sacrifice of the brave soldiers who laid down their lives to save their country. There are two stories in the museum, which are divided into several sections.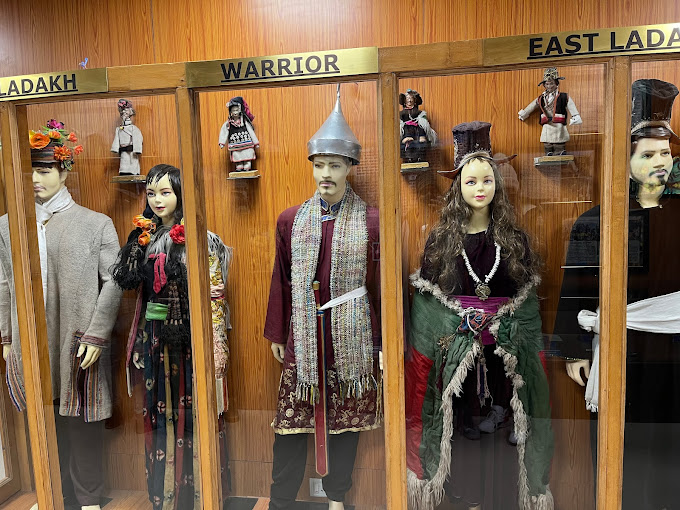 On the upper Floor, there is a gallery named OP Vijay Gallery that comprises the arms and ammunitions, captured and used during Kargil War. You can see the pictures of the training processes, accommodations, and army posts on the far away glacier. On another floor, you can see the picture of the Kargil war. you can watched the documentary of operations Vijay on the ground floor and witness the exemplary courage of Indian Soldiers during the war.
• Things to do at Hall of Fame: Watch the documentary and buy souvenirs.
• How to reach the Hall of Fame: Situated at 2 km from Leh Airport which can be reached by Taxi.
• Monday Closed.
Lamayuru -Moonland of Ladakh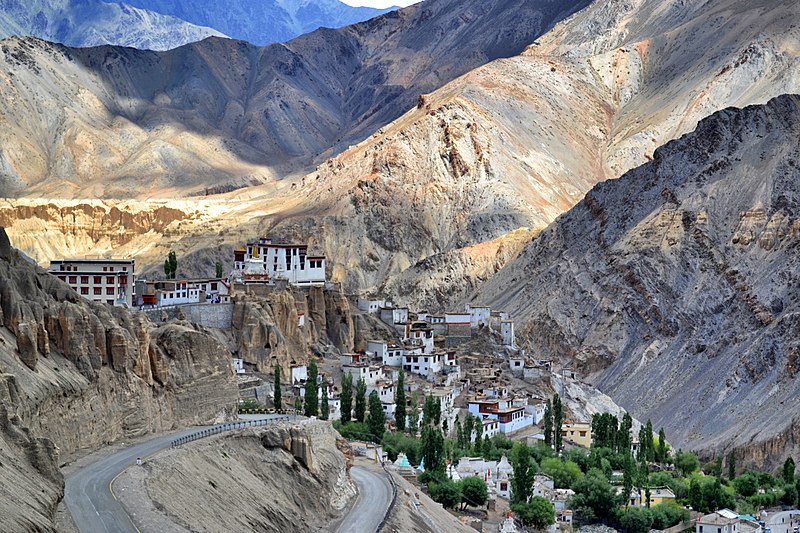 Have you ever seen a moonlike landscape for real? No? Then Lamayuru in Leh is a place to be in . It is often called a Moonscape for tourists. Its was founded in the 11th Century by Mahavidyalaya Naropa . The landscape of Lamayuru is surreal, sublime moonlike and divine.
Lamayuru is known for its rugged landscape, odd geographical formations, picturesque view and Lamyuru monastery which is situated at a height of 3510 meter ,If you are looking for a beautiful place to click some awesome picyure them Lamyuru is one of the most popular tourist destination to visit in Ladakh .
• Yuru Kabgyat is the annual festival of Lamayuru Monastary which is the centre of attraction of this monastery. The famous mask dance performed by Lamas is the best part of this festival.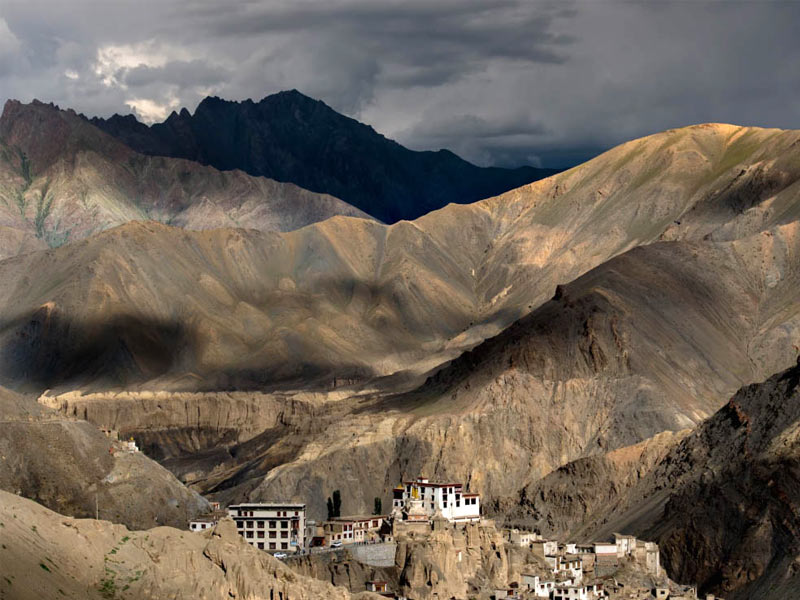 Khardung La Pass -Scenic Motorable Pass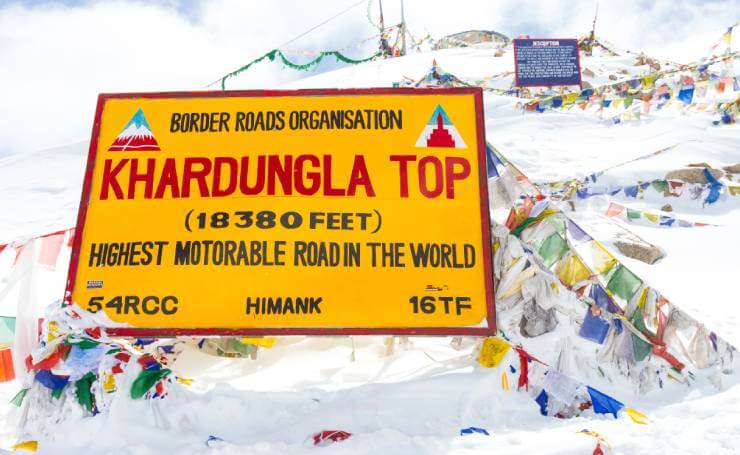 Welcome to the highest motorable passes in the world. This place is must visit in your lifetime as it is one of the must visit tourist destination in Ladakh,
Khardung La is a gateway to Nubra and Shayok valleys. its an endless world of scenic vistas. The thing of beauty and bliss is here forever. For a thrill seeker , nature lover,solace seekers ,Khardung-La pass is one of a kind . You will never be able to forget its charm if you visit here once.
• May to September is the best time to visit Khardung La Pass ,It is the best Place for adventure bikers .
Magnetic Hill – Place where Gravity Fails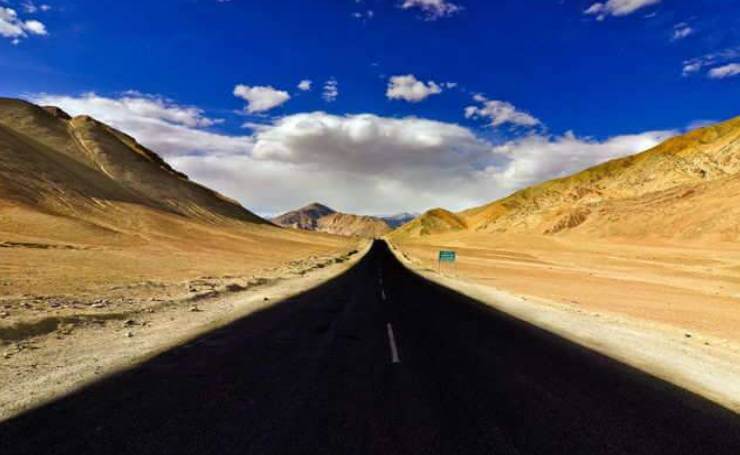 It is one of the most popular Ladakh Tourist attractions in Ladakh. I am sure you would definitely want to see this place. There is a yellow sign board in Magnetic hill which says "The Phenomenon that defies gravity".
It instructs you to park your vehicles at the base with a white point on the road, which is also known as Magnetic Road and when you park your vehicle at that spot, your vehicle will automatically move forward. isn't it interesting? This place should definitely be on your list of top places to visit in Ladakh.
Alchi Temple
Resting in the lap of the breathtaking beautiful Ladakh. The Alchi monastery is one of the most sacred and holy places in the entire world. It was constructed by legendaey Guru Rinchen Zangpo between the era of 958 and 1055 A.D .Devotees from all across the globe swarm here in search of enternal peace Revered all over the world as the Oldest Buddhist Learning Centre in North India , This is definitely a must visit for all travellers .
What makes it stand out from other Buddhist monuments are the mesmerising carvings on the walls. The oldest wall paintings of Ladakh have also been well preserved in this monastery .it has also attracted the film fraternity as numerous movies have been shot here like Dil Se and Tashan. Numerous restaurants ,tea stalls ,Shops and Shacks are located near the monastery to promote tourism .
Spituk Gompa – Seek the Divine Grace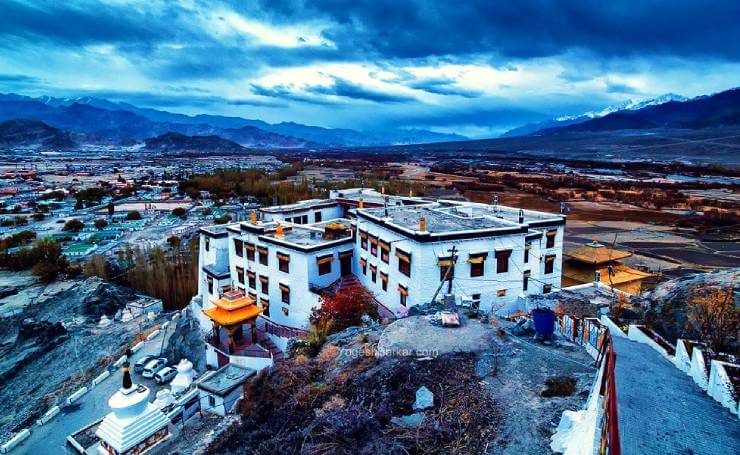 Travelling to Ladakh would elevate your travel experience to a higher level if you visit some sacred places to seek solace.
Spituk Gompa is one such place to be in. It is also one of the most popular destinations in Ladakh. The gompa is located at the top of the hill and the scenic views from the hill would overpower your mind with delight.
• Spituk Monastery's Museum has a rich collection of ancient masks, Thangkas and antique items. May to September is the best time to visit Spituk Gompa but if you want to enjoy the Spituk Festival then visit in January.
Tso Moriri Lake – Hidden beauty of Ladakh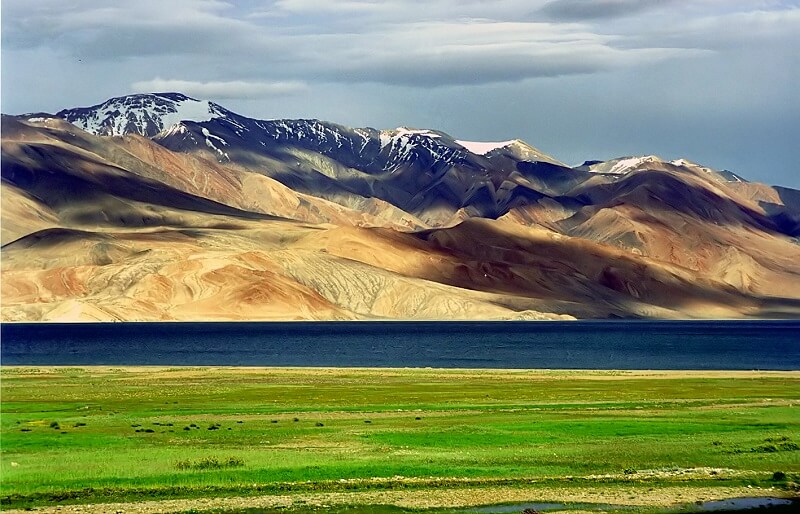 If you are exploring Ladakh then Tso Moriri Lake should be the place you must not forget to be in. It is one of the offbeat destinations to explore in Ladakh. Located in Changthang Wildlife Sanctuary, Tso Moriri Lake is a piece of heaven for the people who love calm and scenic places. It is not wrong to call it one of the most beautiful places in Ladakh to enjoy your day. It is 4000 meters above sea level, decked with snowcapped mountains all around, beautiful migratory birds and rare Tibetan wolves. For honeymoon couples, this place would be an absolute bliss because of its picturesque setting which gives a romantic feel.
• May to August is the best time to visit Tso Moriri Lake. During January to March this lake remains frozen. It is located near the Line of actual control. You Need an Inner Line Permit to visit this place.
Nubra Valley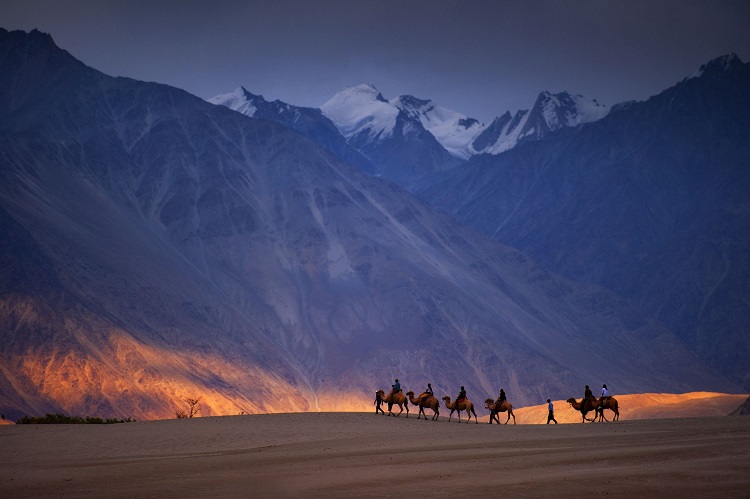 Popular for its unique landscape and jaw-dropping locales, Nubra Valley is among the top attractions in Ladakh. It is connected with the Leh by Khardung La Pass and offers innumerable experiences. Nubra Valley is known for its cold desert and Bactrian double-humped camels. You can enjoy a camel ride amidst the barren mountains in the sand dunes of the valley.
With the backdrop of Diskit Monastery, the camel ride offers an amazing experience. During the sunset, the surroundings look mesmerizing and offer a memorable experience during the Ladakh trip. There are numerous eco-friendly camps, where you can enjoy camping. Hunder Village, Diskit Monastery, Turtuk, and Panamik are the major attractions of the Nubra Valley.
is a breathtakingly beautiful destination located in the northernmost part of India, in Ladakh. It is a high-altitude cold desert that is renowned for its mesmerising landscapes, picturesque villages, ancient monasteries, and unique culture. The valley is situated at an elevation of about 3,000 metres above sea level and is surrounded by majestic snow-capped mountains that make it a paradise for nature lovers and adventure seekers alike. The valley is accessible via the Khardung La Pass, which is one of the highest motorable roads in the world, and offers a thrilling experience for those who dare to take the journey.
Nubra Valley is also famous for its double-humped Bactrian camels, which can be seen grazing on the sand dunes in the region. Visitors can enjoy a camel safari and explore the valley's remote corners, visiting ancient gompas and remote villages. The valley is also a popular trekking destination, with several trails offering stunning views of the mountains and valleys.
• The best time to visit Nubra Valley is between May till September, when the weather is mild and pleasant. However, visitors should be prepared for sudden changes in temperature and weather conditions, as the region can be quite unpredictable.
• Things to do at Nubra Valley: Bike ride, camel ride, photography, and camping
• Best time to visit Nubra Valley: May to September
• How to reach Nubra Valley: Leh Airport is the nearest airport from Nubra Valley, which is situated 127 km away from Nubra. It can be reached easily by taxi, bike, and bus that are available in Leh city.
Diskit Monastery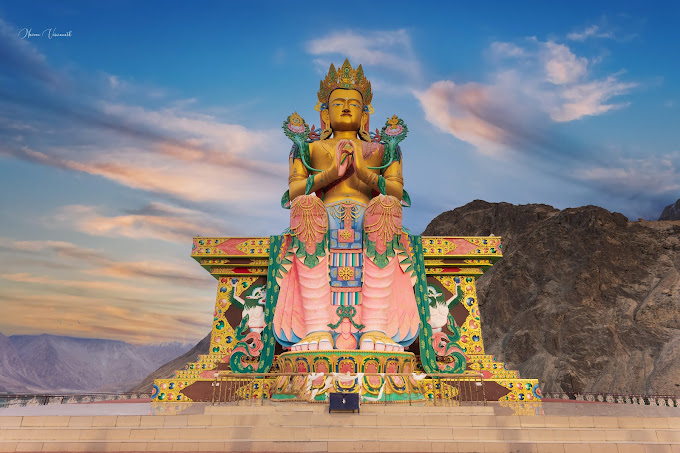 One of the largest and oldest surviving monasteries in the Nubra Valley, Diskit Monastery is located amidst the barren landscape. It houses a 100 feet tall Maitreya Buddha statue that can be seen from far away. Nestled at an altitude of 3,142 m above sea level, Diskit Gompa is perched atop a hill above the plains of Shyok River. From the monastery, you can witness the sheer beauty and bird's eye view of the valley.
The Hunder Sand dunes and Bactrian camels can be spotted from here. The renowned Dosmoche festival is celebrated in the courtyards of the monastery, which offer glimpses of the rich cultural heritage of the region. It is a perfect way to get along with the locals and monks to learn about their lifestyle and life in the valley.
• Things to do at Diskit Monastery: Seek blessings, meditation, and visit Dikit Village
• Best time to visit Diskit Monastery: May to September
• How to reach Diskit Monastery: Leh Airport is the primary airport that serves the Nubra Valley and Ladakh region.
Diskit Monastery is situated 120 km away from the airport. You can hire a private taxi or bike from Leh to reach the monastery. Also, government buses ply regularly for Nubra Valley.
Thiksey Monastery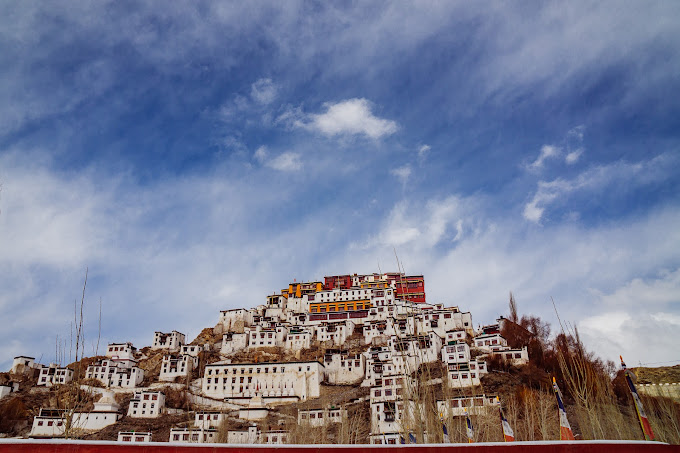 Renowned for its resemblance with the Potala Palace in Tibet, Thiksey Monastery is among the most revered sites in Ladakh among Buddhists. The monastic complex was built in the 15th century by Palden Zangpo. It is the largest gompa in central Ladakh and the major attraction of Thiksey Monastery is Maitreya Temple, which was built in 1970 to commemorate the visit of the Dalai Lama in the 14th century.
The monastery houses the 15 m tall Maitreya Buddha statue in the monastery, which is the largest statue in Ladakh covering two stories of the building. Gustor Festival is the major event organized here, which offers glimpses of the rich cultural heritage of the region.
• Things to do at Thiksey Monastery: Sightseeing and meditation
• Best time to visit Thiksey Monastery: May to September
• How to reach Thiksey Monastery: Leh Airport is the nearest airport, which is 20 km away and is easily accessible from Leh city.
Leh Palace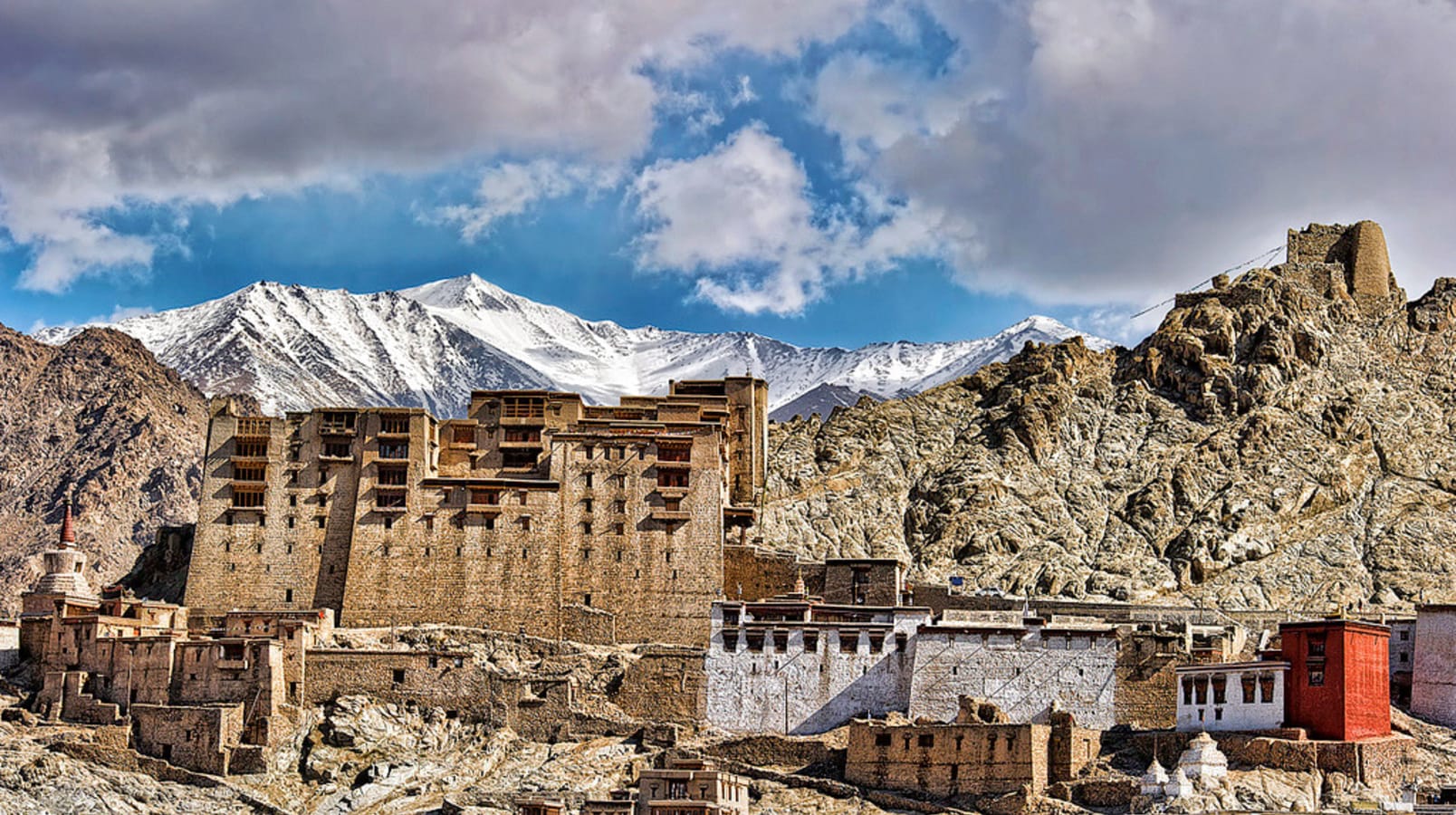 Here are some of the best festivals to enjoy in Ladakh:
The culture of Ladakh refers to the traditional customs, belief systems, and political systems that are followed by Ladakhi people in India. The languages, religions, dance, music, architecture, food, and customs of the Ladakh region are similar to neighbouring Tibet. Ladakhi is the traditional language of Ladakh. The popular dances in Ladakh include the khatok chenmo, cham, etc. The people of Ladakh also celebrate several festivals throughout the year, some of the most famous are Hemis Tsechu and Losar.
Hemis Festival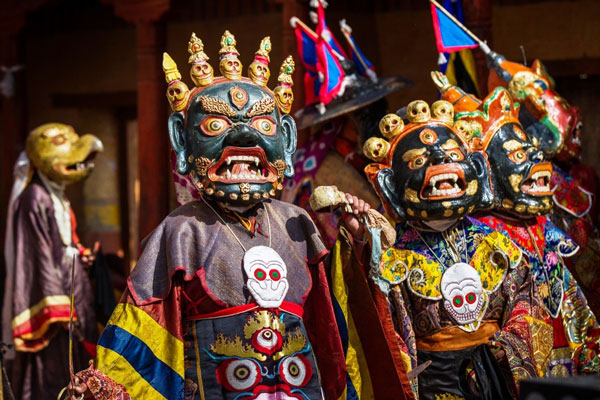 The Hemis Gompa being the largest and richest Buddhist monastery in Ladakh hosts its annual Hemis festival on the 10th day of the Tibetan lunar month. Celebrated to commemorate the birth of Guru Padmasambhava, the founder of Tantric Buddhism in Tibet.
During the festival, the locals and monks dress up in traditional clothes, where men wear cummerbunds and women wear vibrant headgears and ample jewellery. During the monkey year, which comes in a cycle of 12 years, the four-storey thangka of Guru Padmasambhava is hung in the courtyard with other precious thangkas out on display.
The Lamas perform the sacred masked dance known as Chaam while being accompanied by musical drums, longhorns and cymbals. The mystic mask dances performed here to form an important part of the Tantric tradition. Synchronisation of the dances with traditional instruments in the background makes the festival a lively and entertaining affair attracting tourists and Buddhism believers from all over the world, even in harsh and cold conditions.
When is it celebrated: It is a 3-day festival that is celebrated from the 9th - 11th June.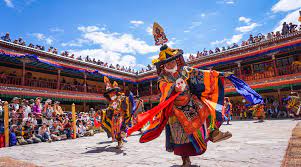 Where is it celebrated: It is celebrated in the Hemis Gompa or Monastery located 45 km towards the south-east of the main city .
Losar Festival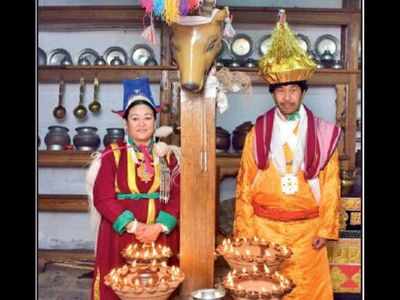 Marking the beginning of the Tibetan new year, Losar is an important festival of Ladakh. The celebrations of Losar in Ladakh continue for 15 long days and this Buddhist festival falls about the time of the winter solstice any time between 8th and 30th December. On this one of the top festivals in Ladakh, the scale of the celebration is large with a number of folk dance and music performances and gathering of hundreds of people at sacred places. Special ceremonies are also held in different monasteries of Ladakh on Losar and the ambiance is quite delightful.
Houses are cleaned before the festivity begins and various food preparations are done that are then shared with loved ones during the festival days. Offerings are made to Buddhist gods and goddesses both at home and at the monasteries in Losar. A procession called Metho on the eve of Losar is carried out through the streets, markets, and lanes where people chant sacred slogans and carry flaming torches believing that the chant and the fire will ward off all the evil spirits.
Festival Dates/Months: Anytime between 8th and 30th December
Highlights of Losar in Ladakh:
• Folk dance & music performances
• Metho or evening procession
• Special prayers in the monasteries
• Gifts exchange
• A variety of special dishes
About Leh Tourism:
Leh is where your adventure in Ladakh begins! The capital city of the recently formed union territory is the right reflection of what this venturesome North Indian destination is all about. At first, you might find Leh to be a quiet destination, but with further exploration you'll find, Leh to be quite an exciting place to be for everyone. Be it a nature lover, a cultural aficionado, a history lover, an adventure enthusiast or even honeymooners, there's certainly something special for all in Leh tourism.
Inside Leh City, for history & culture lovers are some must-see places like Leh Palace, seated atop a mountain; Shanti Stupa, perched on a mountain and is widely acclaimed; Leh Market, an ideal place for shopping in Ladakh; and the War Museum that gives you a detailed insight into the wars in India and the role of Indian Army. Around Leh also sit some of the most amazing places for sightseeing in Ladakh. The confluence of Indus and Zanskar rivers in Nimmu; the sacred Sikh gurudwara, Patthar Sahib; Magnetic Hill, known for its optical illusion; are some of the major places to visit for tourists.
For a spiritual tour amidst the beautiful settings sit imposing Buddhist monasteries like Ladakh's richest monastery, Hemis Gompa; the oldest monastery, Alchi Gompa; Thiksey Monastery; Matho Monastery, Spituk Gompa and more. These monasteries are ideal for history lovers as well as culture enthusiasts who can enjoy annual festivals here and large collections of books, artifacts and more.
For adventurous souls, Leh is the base point for several adrenaline rushing activities. From the city starts numerous enthralling trekking tours, motor biking adventures, mountain biking ventures, as well as river rafting preparations. It is in fact the place to gear up for the adventure of your choice and buy/rent all the necessary accessories. For wildlife lovers, sitting close to Leh is the largest national park in India, Hemis National Park, which is home to a large number of rare animals like snow leopards, ibex, and Tibetan gazelle.
With our authentic Leh travel guide, find all the information on planning your Leh trip. Get insights on top places & activities, best places to stay and season to visit along with an ideal way to reach along with best Leh sightseeing tour packages
Does one need to be physically fit to visit Leh?
Leh is situated at a height of 3500m, which is a high altitude location where one needs a day or two for acclimatisation. One need not to be physically fit but at least has to be physically well to travel in a high altitude region.
Is Ladakh safe to travel with a Kid :
Ladakh is safe to travel with family or small kids but with some precautions.
• If you are travelling with an infant or a small kid then do not plan your trip to a high or low altitude place. It's not safe for health purpose.
• Weather might not be suitable for small kids, so keep warm clothes.
• Keep your and your kids body hydrated.
• If the kid is not physically fit then a trip to Ladakh is a big NO.
• Newborns will be sensitive to everything. Be it weather, sunlight, snow etc. So, travel when they are at least 7 to 12 months old. It is not medical advice but precaution is always necessary.