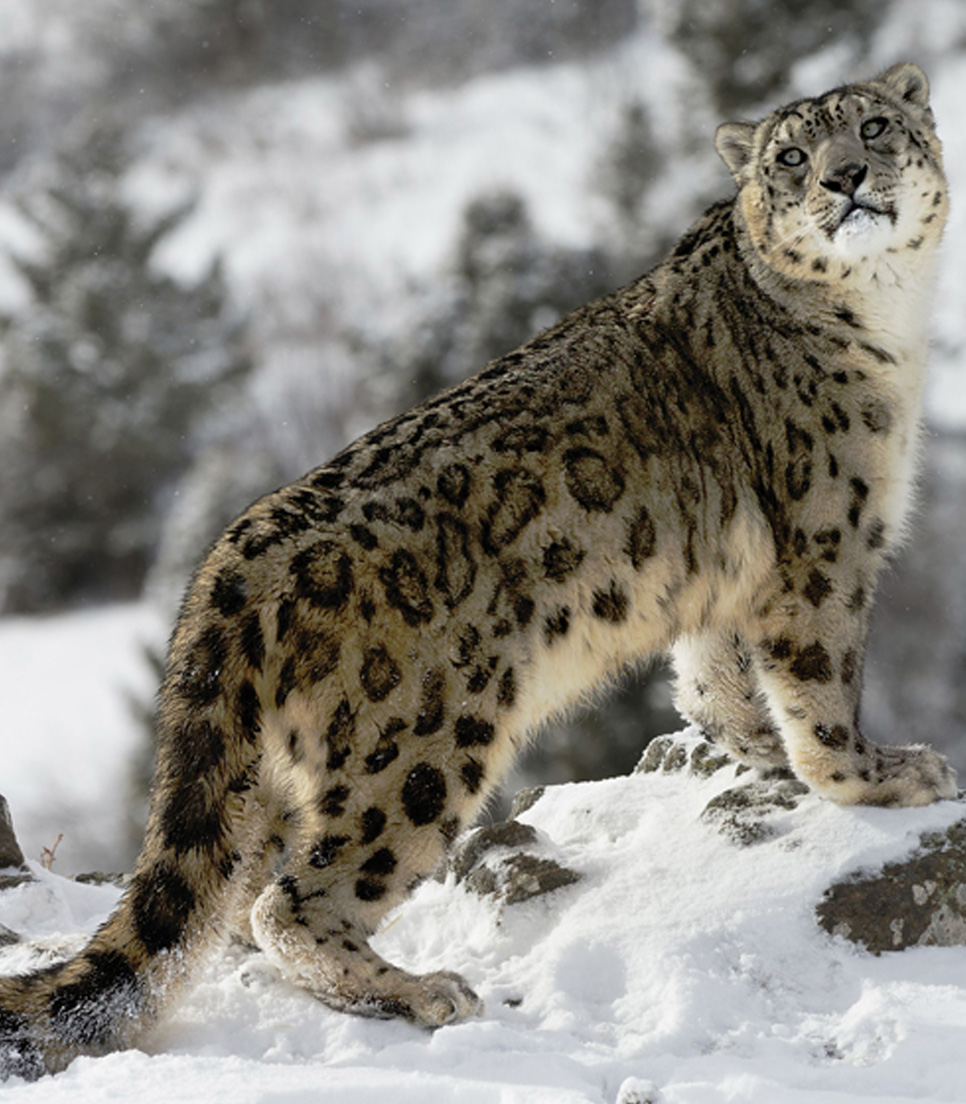 SNOW LEOPARD TREK in Ladakh
BEST TIME TO VISIT
Our trips are specially planned to optimize your chances of seeing snow leopards, namely when they are lower down in the valleys following the domestic flocks and prey. At this time of year, most passes still be snow bound, the nights are very cold and even during the day the temperature drops when out of the sun, so high quality winter clothing and footwear is essential at this time.. Climate wise - usually sunny days with dry chilly winds, the temperature can drop to minus 30 Centigrade at night but warms up quickly as the sun comes out during the day.

Cost
Rs 52,000/- per peson

Service include:
Traditional Welcome
Deluxe Centrally heated Hotels on APAI
All transfer and sightseeing by Innova/ Xylo and Mahindra back up jeeps
Welcome drinks.
Snow leopard Trek & Expedition i.e Food, Potters ,ES guide, Helpers, cook, kitchen, dinning, tents, mattresses, Back up jeep, pick up and drop to and fro trekking points, one day good culture guided tours to historical monasteries, water proof crossing shoes..
Local Homestays
A Brief Intro:
Inhuman scale and vertical topography of the habitat and the relative sparseness of snow leopards on the ground all combine to frustrate the seeker, but the snow leopard does not occupy this environment alone. It sits at the apex of a rich and diverse pyramid and in searching for this master predator you will be exploring its environment and all that live in it in some detail. Not only will you have the chance to meet these amazingly hardy mountain people with their gentle and cheerful nature, you will also come to understand a little of the Buddhism that they practice by visiting some of their great monasteries and picturesque villages.
Our search will not be a random one. However inaccessible the snow leopard's habitat may appear at first glance, the predator is tied to its prey, and in such a vast and inhospitable country the prey is concentrated in relatively few areas. This narrows and focuses our search.
Our expedition will concentrate on one such area in the Hemis National Park in Ladakh, south of the River Indus. This is an area that has been the location for snow leopard research and filming in the past. The bonus, and for many the real reward, is the exploration of the natural and human landscape of snow leopard country. The mountains are rugged but are as indescribably beautiful as the streams and rivers that seam this barren but colourful vastness.
The diverse and rare assemblage of fauna includes the blue sheep or bharal which is the staple of snow leopard diet as well as ibex, kiang or wild ass, long-tailed and Himalayan marmots, Tibetan hare, the pika or mouse hare, wolf, wild dog and fox. Golden eagle, bearded vultures, hobbys and kestrels patrol the skies, while on sunny hill-slopes plump Tibetan and Himalayan snow cocks and chukor partridge feed warily.
Fitness requirements at altitude : Participants need to be in good physical condition and accustomed to walking. Some experience of cold weather trekking and camping at high altitude is useful as this will give you some idea of the conditions that will prevail. Physicians advice for all ages is a must so we recommend that you consult your GP regarding travel to high altitude areas before travelling. By and large, people accustomed to hill walking and in reasonable condition should have no trouble.
Essential kit and equipment you will need : High quality trekking gear is difficult to buy in India so please ensure you bring with you any essential equipment. This will include: High quality 4-season sleeping bag with hood. Thermarest mat, quality cold weather trekking clothing, including goretex trousers, down jacket, waterproof jacket, warm fleece headwear and gloves. Walking boots, gaiters, adjustable trekking poles, and clothing in subdued colours i.e. dark green/brown/khaki, long cotton trousers. Sandals or lighter shoes, sun hat/bandana for shading the neck, day pack to carry, larger backpack, duffle bag to be carried by a porter, and quality sun glasses. Binoculars/ scope, camera with good lenses. Personal First Aid kit and water purification tablets.
Cost doesn't include:
Personal gears i.e woollen cloth, worm jackets, good sleeping bags, sun glass, sun cream, Dxlr camera etc.
DAY BY DAY ITINERARY
Day 1 : Arrival at Leh Airport
Full day Rest and accilimatise
Day 2: Culture of Ladakh
Take the full day to explore the area. Around 10 miles from Leh, Shey was once the residence of the royal family and is famous for its high gilded statue of Buddha. The monastery has a two-floor statue of the sitting Buddha and the gompa, still partially used, is being restored. There is a small library and a collection of thankas, and some stupas and Mani walls nearby. The 12m gold plated Shakyamuni Buddha statue is the largest in the region, built by King Singge Namgyal's son. Sight seeing tour of Leh. Spend the morning at leisure. In the afternoon you will take a sight seeing tour of Leh, the capital of the historic kingdom of Ladakh. The town is a fascinating labyrinth of winding streets and quaint bazaars. The main street is open and airy, lined with rows of shops. On either side of the market, long lines of Ladakhi women in traditional dress and colourful coral and turquoise jewellery can be seen seated behind enormous baskets, selling vegetables. The spectacular eight-floor Leh Palace looms above the town, dominating the landscape. Stroll through the town, followed by a visit to Sankar gompa, a little over a mile from the market. This gompa is a subsidiary of Spitok gompa, having the same head lama. Sankar is easily visited on foot from Leh, lying as it does in Lehs suburbs. About 25 lamas of the yellow-hat sect are attached to Sankar but only a few live here permanently. Trek Begins
Day 3 :
Drive to Latho, which lies 6kms across the bridge on Indus in Spituk. Commence the trek along the trail that zig-zags along the Indus river for 1 hour until the trail enters into the gorge coming from the south. Trek down to the confluence of the stream coming out of the rumbak gorge to where it joins the Indus. Here you will see the first signs of snow leopard scrapes and ancient etchings showing snow leopards hunting Ibex. Trek up another 3 kms to the little hamlet of Zingchen. Overnight in tents in Zingchen. Alt.10,600ft / 3,300mts.(relatively lower than Leh at 3500mts.)(B,L,D)
Day 4 :
The trek up to Husing nallah takes you through a narrow gorge where you may spot your first blue sheep, which are the main source of prey for the elusive cats. You will also witness fresh signs of snow leopard rock scents along this trail. The camp is located around 50 minutes from Zingchen, surrounded by rugged broken slopes at a junction where two side valleys meet - a good place for sighting snow leopards! After lunch trek up Tarbung looking for snow leopard signs and possible sightings. Overnight in Husing/Tarbung junction at an altitude of 3700mts. (B,L,D)
Day 5 :
Trek up to Rumbak Sumdo where the narrow gorge suddenly opens into a wide valley surrounded by high mountains including the mighty Stok Kangri at 6120mts. The Sumdo is where the three valleys meet with Rumbak hamlet to the east, Lungnak to south and the Kharlung towards the west. Trek further up to Rumbak, which is a small hamlet of 9 houses situated at an altitude of 4050m. Afternoon return to the sumdo to look for cats in the opposite valley. (B,L,D)
Day 6:
Morning trek up to Husing valley which is known for frequent snow leopard movements. Spend day looking for snow leopards and prey animals. Overnight in tents in Junction camp. (B,L,D)
Day 7 -8 :
Trek up to Yurutse which lies at the base of Gandala pass to the West past Sumdo. This area serves as an ideal habitat for the Tibetan Argali/ Great Tibetan sheep and also known for sightings of Tibetan wolf (depending on cat movement). Overnight in family run Homestays in Rumbak. (B,L,D)
Day 9 :
Morning walk up Husing/Tarbung. After lunch trek back to Zingchen via the same route and drive to Leh. Overnight in Hotel Omasila or similar. (B,L,D)
Day 10 :
Delhi. Say goodbye to your trekking team and this morning fly back to Delhi. (Guest House). (B)
WILDLIFE SPECIALIST
Typically trips are expertly guided by a leading specialist with a good knowledge of the area to be visited. Inevitably, wildlife is the main focus of attention however, the aim will be to incorporate all other aspects of the natural world in an attempt to be as broad-minded as possible. A local guide may often accompany trips. How this holiday makes a difference.
COMMUNITY :
When not staying in tents, small home stays are used in order to contribute towards the local economy. and a maximum group size of 12 people ensures minimum impact and allows for increased interaction with the guides.
All of the staff and porters are from the local region and ES guides for the sightseeing and transfers in Leh. The trek is led by experienced members of the wild life deoartment who were also brought up in Ladakh. All guides have extensive knowledge of the relationship between local people and the endangered wildlife of the region.
The wild life department is focusing its efforts on strengthening community stewardship and seeking ways of helping locals to co-exist with large predators. Recently their wonderful Ladakhi 'homestays' were nominated .