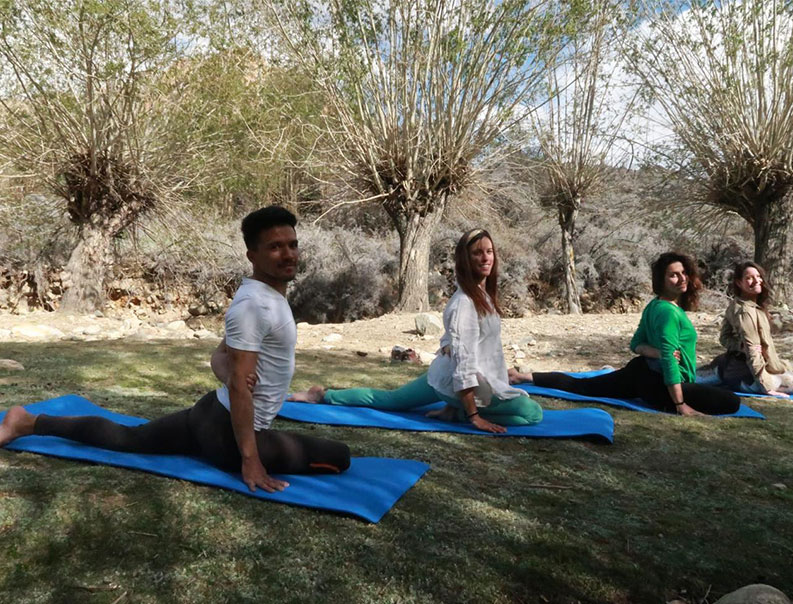 Ladakh Signature Experiences
Best Boutique Hotel in Leh
Resort Indulgence in Nubra
Glamping /Camping in Pangong
Luxury Farm-stay in Sakti Village with a Yoga Session or Monastic stay at a Monastery (Optional)
White water rafting in the Indus
Day 01.Leh.
Experience a wonderful flight over the Himalaya. On arrival, you will be receive by Kailash expeditions representative and transfer to hotel. After welcome tea and coffee, rest for whole day & and let your body take complete acclimatization. If possible stay entire day at the hotel and let your body acclimatize for the entire 24 hours so that one can enjoy travelling without bearing AMS ( acute mountain sickness ) . Overnight Hotel
Day 02: Indus Valley Tour
- Shey Palace - Visit to Thikse (Height 3230 M) - Hemis Gompa (Height 3450 M)
You begin the day by visiting Hemis Monastery ,thiksey Monastery and then to Shey Palace. Shey monastery and palace is located 15 kilometers from Leh town on the Leh - Manali road. Shey palace and the monastery were built in the 16th Century AD. The monastery enshrines the Du-Khang with an almost 10 meter high copper statue of Lord Buddha. King Deledan Nagmyal built the Shey palace and Shey Palace boasts of the largest victory stupa in Leh, the top of which is made of pure gold. The Shey Palace was the abode of the royal family till 1834 AD when they moved to the Stok palace. The Shey Palace has been taken over by ASI for conservation

Thikse monastery, which is one of the most vibrant and active monasteries in the region. It dates back to the 16th century and is part of the Gelug-pa Sect. It is headed by successive reincarnations of the Khanpo Rimpoche. The monastery is 12 storied and painted in deep shades of red, ochre and white. It has evolved around a central courtyard with buildings surrounding it from three sides. At one extreme lies the main dukhang, which houses numerous racks containing religious texts. Behind the main alter lies a small chamber that contains images of revered deities.

Continue your drive on a well mettled broad road traveling upstream along the Indus River to HEMIS GOMPA, crossing over the Indus at the village of Karu. The most famous of Ladakh's monasteries, Hemis or Changchub Samstanling(The love palace of the compassionate person), dates back to the 17th century and were built over a period of 40 years (1602 - 1642 A.D.). Today Hemis is well known for its festival or Hemis Tsechu commemorating the birthday of Guru Padmasambhava. In the year of the Monkey (every 12 years) a giant thangkadepicting Guru Padmasambhava is unfurled from the terrace draping the five-storey facade. Delicately wrought in pearls and appliqué, it is one of the most famous art treasures of Ladakh. The central courtyard forms the focus for the masked dances held every year in summer. In the dukhang, remnants of the original 17th century murals can be seen. Later return back to Leh
Day 03: Shyam Valley excursion ( 200 kms of best driving in the world )
Leh – Lamayuru - (enroute Magnetic Hill/Pathar Sahib/Sangam.)
 Uletokpo to Leh enroute Alchi monastery Basgo Fort ( UNESCO – world Heritage site )
After a sumptuous breakfast we drive to visit Spituk Monastery, located 2-3 kms away from Leh town and continue further to Lamayuru monastery. Enroute visit Gurudwara Pathar Sahib, magical Magnetic Hill, the Sangam ( confluence ) of Zanskar and Indus river. One can also experience white water river rafting in zanskar river.

Enroute we also start visiting, Alchi, a small village situated on low land, is about 70 km to the west of Leh district and is located on the banks of the River Indus.Alchi village is very fertile and it is all green with apricot trees on both side of road. This region had influence of Islam, Hinduism and Buddhism because it falls on the route to Turkestan of China but its isolation helped the village and gompas to keep their cultural traditions safe from the outer influences.

The Alchi village is famous for the existence of one of the oldest monasteries in Ladakh known as Alchi Monastery, which is Ladakh's most valuable heritage. Alchi monastery is a Buddhist worshipping place and study center and is managed by the monks of Likir. The monastery was built, according to local tradition, by the great translator Guru Rinchen Zangpo between 958AD and 1055AD. The building is said to have been built during the 11th century and the architecture of the place is also excellent.

In Alchi, one can visit the Sumtsek Temple, Vairocana Temple, Lo Tsawa Temple, Manjushree Temple, Kangyur Temple with Stupas, Monk Cells etc. Beautiful wood carving arts, huge Tibetan Styled models of Buddha, Manjushree, historic wall paintings of Buddha's teachings within a very calm, quite, pristine ambiance made Alchi more valuable. There are five shrines in the Choskor temple complex which has some splendid wall paintings. One of its walls features thousands of miniature sized pictures of the Buddha. It is a perfect place to relax and experience the quintessential Buddhist monastery.

ater drive to Lamayuru village to expereince the Moonland like Landscape, Known as the Moonland. Also visit Lamayuru Monastery by the evening if not one can visit very next day.Overnight at Lamayurur
Day 04 : Lamayuru to Leh
Today we witness early morning prayer and assembly of monks at lamayuru monastery.
After a sumptuous breakfasts and monastery visit we can drive back to leh via same route that is NH1, Leh-Srinagar highway.
En-route also visit basgo fort which is declared as a world heritage site by UNESCO as World's Heritage site. Basgo is certainly the most impressive of Ladakhi citadels despite its ruined state.
Overnight at Leh
Day 05.Leh /Nubra Valley via Khardongla. 125km.
After an early breakfast ,drive to beautiful NubraValley via Khardungla (Highest Motorable road in the World, 18,380 ft) with the zig zag trail continues and drive till Hundar village. On arrival check in Nature's nest North camp. Afternoon enjoy the beauty of sand dune and double hump ca mel. Overn ight at Nature's Nest North Camp or similar...
Day 06.Hunder /Diskit/ Pangong via Shayok
Today , we get up early morning visit to Diskit monastery and have wonderful view of Nubra valley. Drive to Pangong lake via Shayok valley. Enjoy the turquoise color panoramic lake and the magnificent mountains and landscapes which will leave you awestruck. Spent your afternoon enjoy the beauty of Pangong lake and later. Check in the camp .Overnight Hotel.
Day 07 : Pangong Lake to Sakti Village
Today after early breakfast , start your journey towards Leh via changla. Reach the beautiful Sakti Village and walk around the village to experience the Himalayan lifestyle .The village has ancient cave roof monastery Tak-Thok (also Thag-Thok, literally "rock roof") gompa has come up around a cave where Padmasambhava, or the Guru Rinpoche, is said to have meditated during his travels to Ladakh in the 8th century.

The cave, called Duphug (or Tu-Phuk) Lhakhang, is a popular pilgrimage. Buddhists visit to be blessed by dubchu, the sacred water that oozes from its ceiling. A constant drip. Even in winter, when the world freezes over. The ceiling is a greasy black with emissions from the butter lamps that burn nonstop. Devotees have stuck offerings of banknotes and coins all over. Gold-plated statues of Padmasambhava's eight manifestations occupy pride of place.

Both the village and the monastery will take you breadth away.
Overnight at resort at sakti
Day 08 : Return back to Leh enroute stok Palace " The present Royal Palace
Today after a relaxing late brunch or breakfasts, we start our journey back to Leh.Enroute visit Stok Palace and Museum.Stok Palace is the less majestic yet more famous of the palaces in Ladakh. At some 14 km from Leh, it was the once summer palace of Ladakh's royal family. Built over 200 years ago, Stok Palace houses some rare ancient paintings of Buddhist deities Shakyamuni, Avalokiteshwara, Vajrapani, Tara, Amchi etc. The palace museum also houses some 100 plus volumes of Buddhist teachings and a giant statue of Avalokiteshwara. Some interesting artifacts like the jewel-studded crown of Ladakh's erstwhile queen are also housed in the palace. The palace also has a cafe on its terrace and some rooms open for visitors. Prior booking has to be made in case you wish to stay here. Stok Palace is a major pit-stop if you are eager to hit some impressive treks in the Himalayas around.
Later half we spent in Leh Market.Overnight Hotel in Leh
Day 09.flight to Delhi
Early Morning transfer to airport and fly for onward destination. Leave footprints with take sweet memories of Ladakh!
Costs : 55,000 Per person basis * Minimum 02 pax
04 star Hotels
Sakti : Fana retreat- Luxury Village Farm Stay
Lamayuru : The Grand Moon-Land
Leh : The Zomday Ladakh - A boutique collection of luxury rooms
Nubra : Hunder /Nubra Sarai – Luxury Mongolian Yurt or Nature's Nest North
Pangong : Nature's Nest Luxury camps
Sakti : Fana retreat
Costs Includes:
Meal Plan : APAI –Breakfasts lunch and Dinner
Inner line permits
All Monument and Monastery entrance
Ladakh Environmental fee
All sightseeing and transfer by SUV till 06 Pax and Force Traveller beyond 06 Pax
Yoga Session at Sakti
Welcome drinks on arrival with ladakhi style " Scarf :
Costs Excludes:
Travel insurances if any
Airfare
Tips, Personal drinks etx