(By Diskit)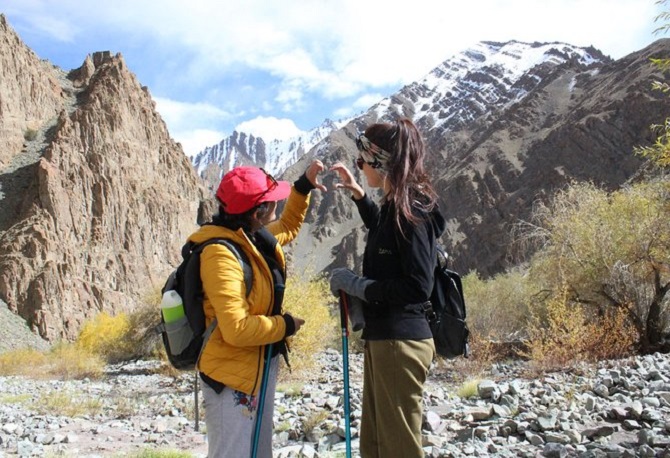 Description
This trek will provide you with lovely views of the Indus valley, the karakuram and Stok,Matho range from the two passes that you will cross. You will cross high pastures and meadows and there you will get a chance to visit Shang village and its Monastery. The highest camp altitude is 5030 m. Stok kangri base camp.
Key Geographical Highlights
1 Popular Peaks: Stok Kangri ( 6153m )
2 High Passes: Shang La ( 4950m ), Matho La ( 4950m )
3 Rivers: Indus
4 Villages: Leh, Stok Village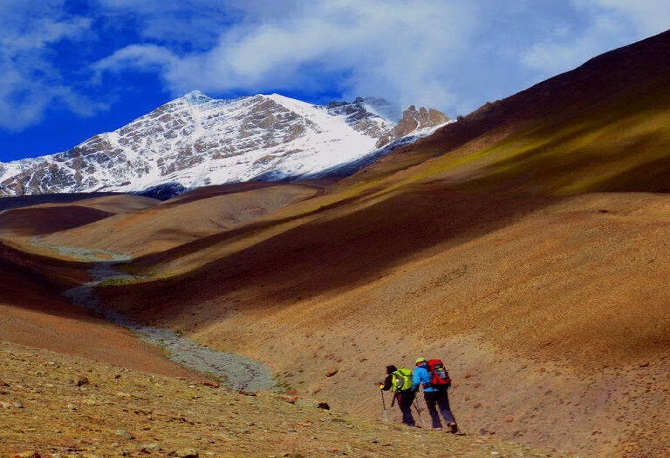 Shang Matho to stok trial via Gangpochey
•Leh to Shang Sumdo3950m via Thiksay and Himis monastery.
We drive from Leh to Shang Sumdo by visiting Ladakh most beautiful monastery of Thiksay and
Hemis and reach Shang Sumdo for First day camp . We camp near the river and spend the day
acclimatising in and around Shang Sumdo. Camp .
•Shang Sumdo 3950m to Shang Phu 4250m 5 to 6 hours
We start our trek today - our ponies are waiting for us here and after breakfast we start our firstdays walk. Today the trail ascend gradually through green fields of wheat and barley following the Shang river, flowing from south of Matho Kangri.The valley heads up a shepherds hut the grasslands around serve as grazing grounds fro yak, sheep and goats. We camp overnight at Shang Phu. There is no pass to cross.
•Shang Phu 4250m to Gangpoche 41500m across Shang la 4940m 5 to 6 hours
The day begins with a long three to four hour climb to the Shang la through a zg zag trail. This area is home to snow leopards, bharal, marmots, golden eagle and a lot of other bird life and wildlife. The view from the top is impressive with the mountain wall of Matho Kangri 5900m just behind and above the pass. The path then descends gradually to the campsite of Gangpoche.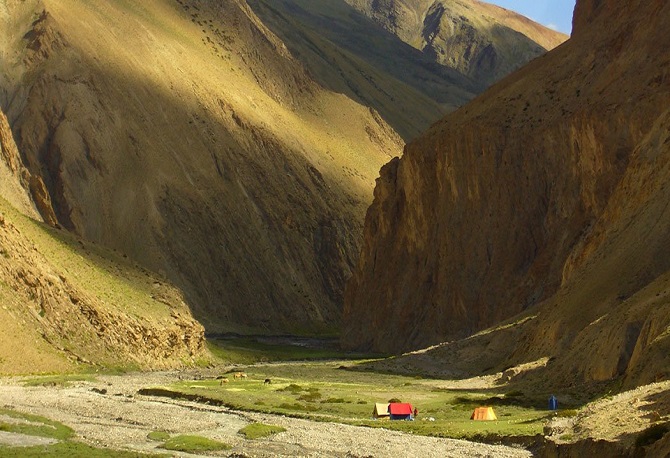 •Gangpoche to Mancarmo via Matho La 4930 5 to 6 hours
This trail travels across the Gangpoche meadows until it reaches the base of Matho la 4350 metres. It then climbs the gentle slopes to the top of Matho La our second pass. The trail steadily ascends to a series of grassy slopes, Yak herders from the nearby villages live in stone settlement at the foot of the pass and the view from the pass is absolute amazing , the popular Stok kangri peak right behind. From the top of Matho La is descends gradually for around 3 km to Mankarmo 4480m. And trek two Stok pickup point and drive to Leh. Overnight Hotel.
Route Map