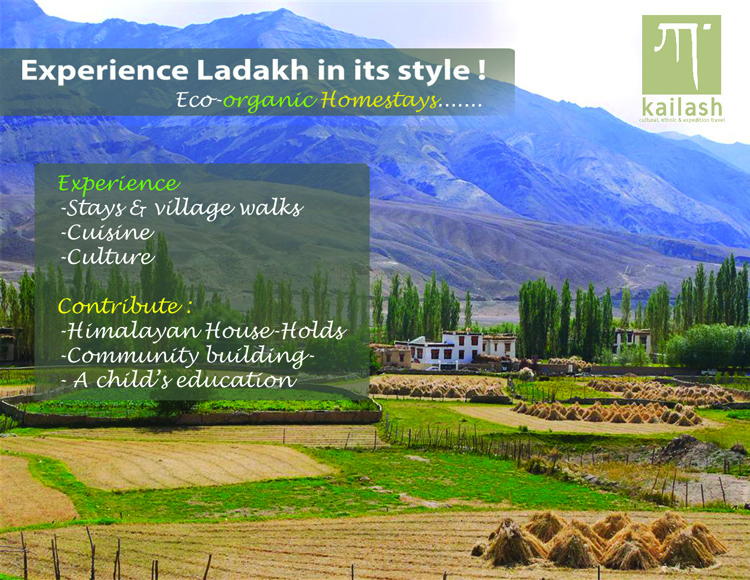 Live Local at a Land between Earth and Sky !
Incredible Ladakh . Incredible India !
Let it be free from cliched and bias to explain but let us begin with a different introduction of Ladakh , this time making your visit much more than a "land between Earth and Sky" experience..
!!! A vast and barren landscape yet leaving you awestruck ,literally Ladakh refers to the "Land of passes" .Situated at average altitude of 3500 ft between Himalayas in the east , Karakoram in the west and Zanksar ranges in the south west of it , Ladakh is a complete blend of traditional Tibetan culture and nature at its best.
This Himalayan range being intact in its location and culture , is yet very diverse and unique in itself.Ladakh is both treated as a range and a region with two districts , that is Leh ( with traditional Buddhists culture and tradition ) and Kargil ( with traditional Shia Muslims and sparse of Buddhists population ) .Ladakh share its boundary with China in the East , Pakistan in the west and Himachal Pradesh in the southern part .
So how can you be a real part of its culture , tradition and custom ? How can one be part of simple yet mystic part of its Tibetan Buddhist rituals and folks who one upon a time were really out of this world with no inland and air connectivity yet people were self sufficient and happy ?
We offer Traditional Ladakhi Home-stays ! Which is not only local friendly but also environment conscious supporting both economy and the environment at its best :)
Highlights : Home-stays | Local cuisine | Culture | Study | Tradition | rituals | Monastic experience

Description :
Traditional Ladakh belongs to half yearly 0r six months cultivation of barley and wheat and some organic vegetables and fruits which keeps them self sufficient round the year .
Barley being the staple food , is utilized in many forms of both dine and wine.A local alcoholic beverage is made out of barley by the process of fermentation.
Ladakh and its villages are unbeatable on its heritage front , with every village has its own monastery and every monastery has its annual festival , therefore its undoubtedly its the "Land of celebrations"
Ladakh traditional houses begins with a prayer flag on its door way ( known as Tar-chen , the large flag) and small flags on the top of houses with prayers and tantras embedded on it ( literal known as "Tarchok"......
Every Traditional house has a large kitchen , largest part of the house with traditional shelf known as "Langs" where you will find every thing of daily utility hand in and around the Langs.
Its mandatory for a Ladakhi House to have a Meditation Room " known as "Chod-Khang" , literal meaning get to butter lamp offering tradition .One can sit , relax and know oneself through meditation in quite himalayan villages.
"Once it was also Mandatory to send the younger son to become a monk .....and it was perfectly accepted that the king exchanged his crown for Lama's Robe....."
Many ways , many possibilities because Ladakh is not a place to visit , but a experience of many lifetimes....